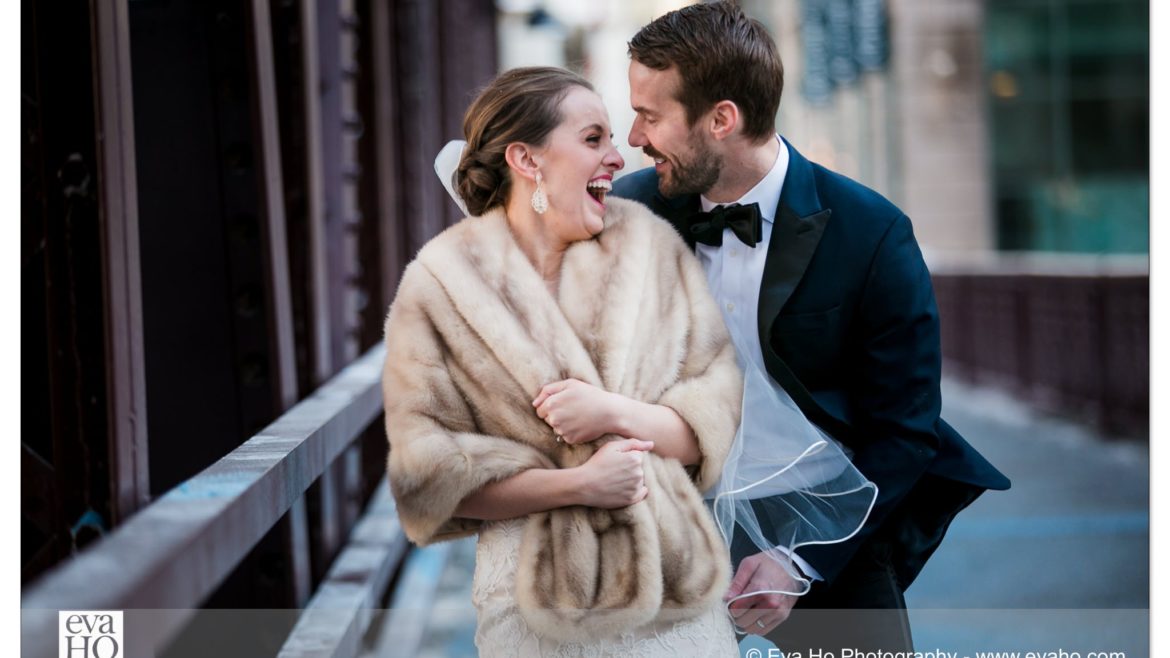 Industrial Rustic Wedding Reception at Artifact Events – Kerry + Dave
You just know it's going to be a fantastic wedding day when the bride has not one, not two, but three pairs of shoes ready and waiting to be worn. The third pair of footwear is a pair of heavy-duty snow boots, on one of the coldest days in Chicago last winter with a high temperature of six degree Fahrenheit.
Kerry and Dave were more than happy to talk about what drew them together as a couple. He loves her style, how she's radiant and it's contagious, her love for him, her kindness, and how she is always giving of herself to friends and family. She loves Dave's generous heart and swears he's the kindest person she's ever met. The two met several years ago online and Dave surprised Kerry by proposing while they were on vacation in Mexico with her parents.
We started the day by getting ready at the W Chicago Lakeshore hotel by the lake with a phenomenal view of a frozen Lake Michigan.  We then rode the trolley up to Lincoln Square to St. Hilary Parish where the wedding ceremony is.  There were some tender moments between the Kerry and her dad and funny moments between Kerry and Dave when Kerry couldn't quite fit Dave's ring on his finger.
Once they officially become husband and wife, it's time for some photo fun outside. The air felt frigidly bitter – the kind that's hard to breathe in  – but the entire bridal party was in good spirits and happily willing to leave the warmth to brave photos in the cold. Wedding portraits were taking all around downtown Chicago, including Fullerton Beach, next to the Chicago River, by the Chicago Board of Trade on LaSalle Street, and under the Chicago Theater sign on State street. We finished up with a few last portraits of the bride and groom at their reception venue, the beautiful Architectural Artifacts.
Their industrial rustic wedding reception was filled with gorgeous succulent flower pieces, and several sentimental details, such as Kerry's great grandma's handkerchief and David's grandparents' wedding cake knife. Kerry had the most joyous smile on her face the entire day!