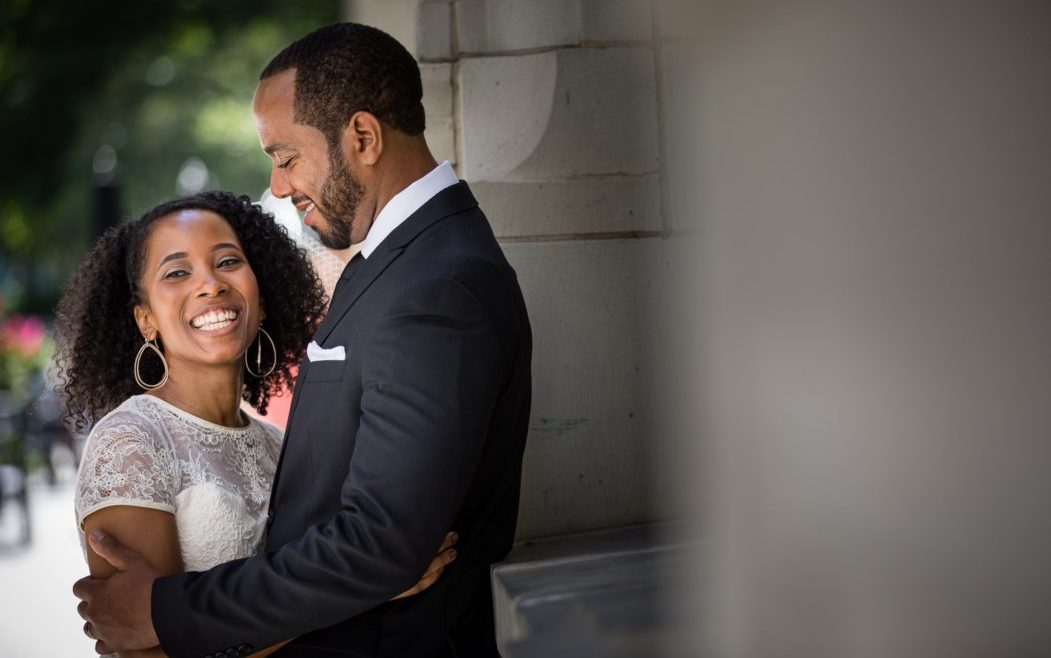 Intimate wedding at The Bristol in Bucktown – Rashawn + Joseph
Rashawn and Joseph had a sweetly intimate, day wedding with a small gathering of friends and family. The couple got ready together in their cozy apartment in Hyde Park the morning before they tied the knot.  After a light breakfast together, they headed to their wedding venue, a rustic gastropub in Bucktown called The Bristol.  When they arrived, a roomful of family and friends are already there eagerly waiting for the soon-to-be husband and wife.  After greeting a few guests, Rashawn and Joseph came together for a short and sweet ceremony that included the African tradition of jumping the broom at the end. Now that they are officially husband and wife, everyone celebrated with a delicious brunch, a homemade cake and some dancing. The relaxed atmosphere and communal seating at The Bristol makes the wedding feels very cozy and intimate.
It was still sunny and bright outside after the reception, so we happily headed out to take a few wedding pictures of just the two of them in downtown Chicago. We began this portrait session by the Wrigley Building, then headed over to Museum Campus for a stunning view of the lake. Joseph loves food and really wanted to incorporated some eating into their portrait session, so after a few last photos against the bright blue sky, we drove back to Hyde Park with a pit stop at a Kilwins. After perusing the many delicious chocolates and treats the shop offers, Joseph and Rashawn bought a snack to share and finished up their wedding day by relaxing together in the outdoor seating area.
Photographed with Cage and Aquarium.
Wedding at The Bristol