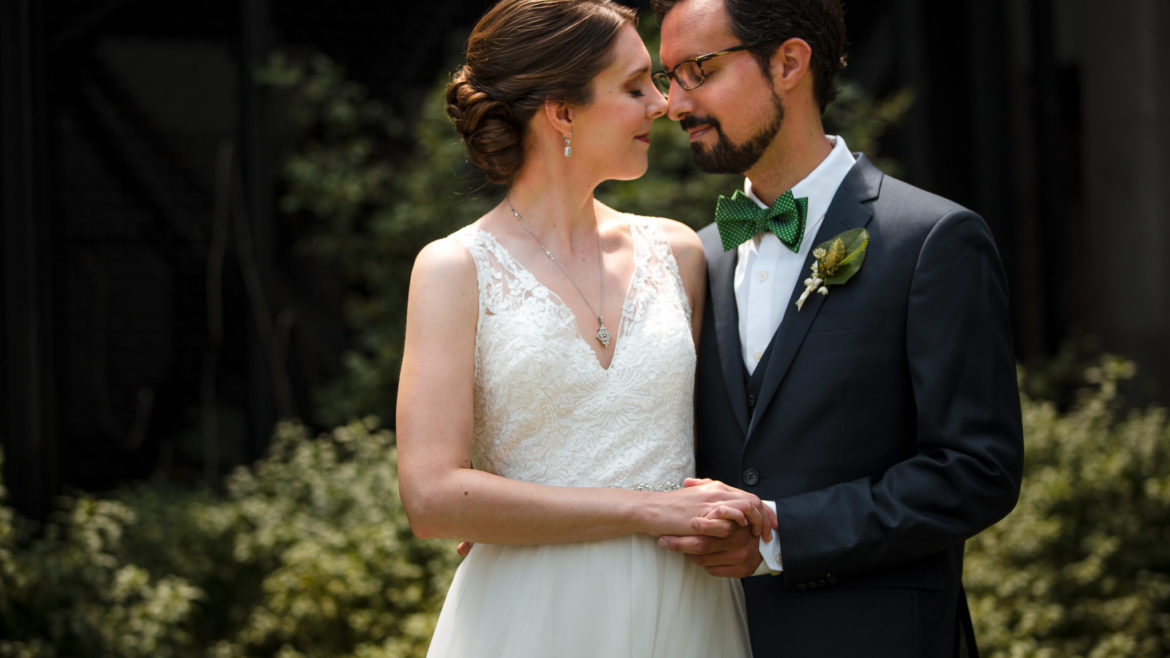 Wedding at Hyatt Regency & Revolution Brewing – Katie + Tom
This Revolution Brewing wedding reception is another one for the books! Meet Tom and Katie. Tom is from Kansas and Katie is from Chicago. Now they live together in California, but swear they'll be moving back to Chicago soon. This city has a way of making everyone fall in love with it! These two were cute as could be together and it was so fun spending the day getting to know them. As well as a mutual love of Chicago, they also adore biking together regularly. So much so, in fact, that you can catch snippets of a biking theme in the details of the wedding itself! (Don't miss the fantastic silhouette on top of the wedding cake!) Katie is also a HUGE Oreo enthusiast. She assured me that she's taste-tested every single Oreo flavor she's gotten her hands on, which means that there was most definitely a moment during their wedding day that I turned around to find Tom and Katie feeding each other Oreos. Too cute! And that was just one of many great moments of their big day.
The couple got ready for their big day with their closest friends (and a few delicious toasts!) at the Hyatt Regency in downtown Chicago. Before the day truly began, we were able to sneak away for a bit so that the two could share a first look. A first look is always such a peaceful start to the whirlwind that is a wedding day. It's a moment to just take a deep breath and enjoy being with the one you love. Afterwards, beaming with happiness, Tom and Katie hopped on what was possibly the most jubilant party bus I've ever experience. Despite the heat of the day, the entire party (plus both sets of parents!) was happy to drive around town for wedding portraits. Tom's mother creatively bought everyone in the wedding party a brightly colored, paper fan to help combat the weather and everyone joined together to fan the bride as she got off the trolley at Lincoln Park Zoo. It make for a fantastic photograph!
Lincoln Park and its famous Honeycomb Pavilion made for an especially classic, Chicago backdrop. Both the wedding ceremony and the reception took place at Revolution Brewing in Logan Square.  Another fun detail I loved from this Revolution Brewing wedding was how all the groomsmen were given different colored Converse sneakers, which they changed into during the reception. Even the bride had a pair of sparkly Converses! Katie glued all the crystals on the shoes herself. The night concluded with a fantastic party filled with much dancing, delicious food, and happy friends. Congratulations, Katie and Tom! I hope to see you back in our Windy City soon!
Photographed with Cage and Aquarium.