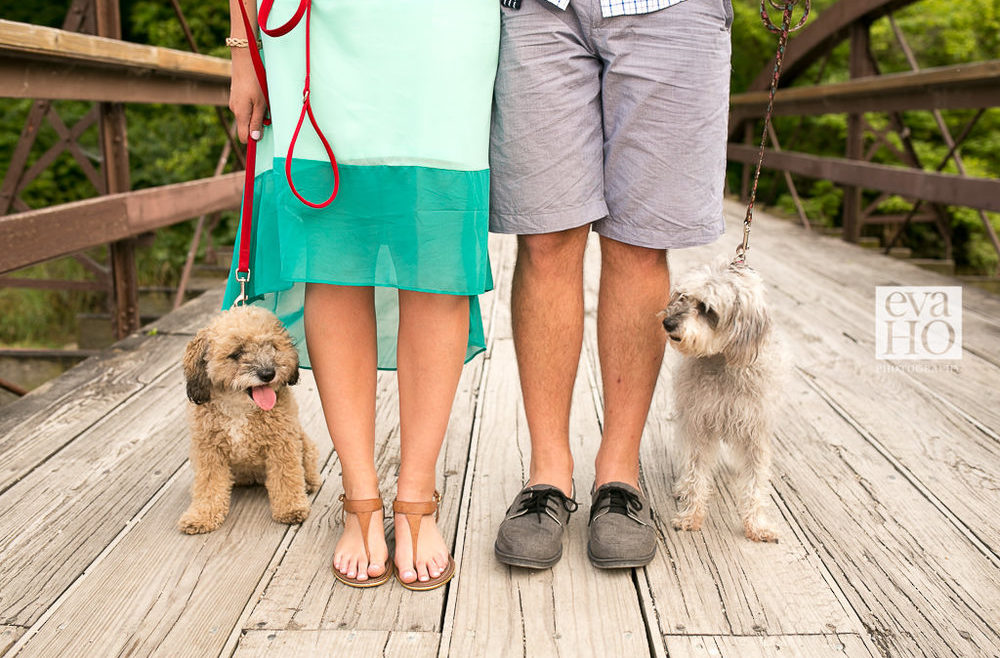 Morton Arboretum Engagement Session – Jason + Rachel
Rachel and Jason have two canine children who play a big part in their relationship. Any documentation of this couple's love story had to include their furbabies, so we started out our engagement session at the Hidden Lake County Forest Preserve with both dogs happily at their owners' sides.
Earlier this summer, there was a lot of rain in Chicago and that resulted in a LOT of mosquitoes.  The forest preserve, with all of its beautiful shade and foliage, was full of these mosquitoes. The second we hopped out of our cars, we were attacked by a relentless swarm of them. Needless to say, we decided to leave with the hope that things would get better at our second stop, The Morton Arboretum. Our optimism still high, despite the sign hanging over the entrance that read "no refund due to too many mosquitoes," we continued on with our session. On the plus side, once we were inside, we barely saw anyone else at the arboretum. It was amazing to have the entire place to ourselves! Unfortunately, the pesky blood-suckers still won and we had to cut our engagement session short. Fortunately, even between shushing and swatting away the army of mosquitoes, we were able to capture some genuinely beautiful moments.
I ended up with about 20 mosquito bites all over me, but it was well worth it.